1 lifestyle
Vocabulary 1: Lifestyle
1 a Look at the verbs and adjectives that can all be used with the noun lifestyle to form collocations. Collocations are pairs or groups of words that are often used together.
I lead a luxurious Lifestyle 
istead of lead you can also use have/live
instead of lifestyle you can also use life
there are some other adjectives that you can use instead of luxurious.
they are as follow: MEMORIZE THEM
alternative / busy / chaotic / comfortable / exciting / healthy / luxurious / quiet / relaxing / sedentary / simple / stressful
Underline those adjectives which could be used to describe your lifestyle. DO IT
b Work in pairs. Compare your adjectives with your partner, explaining your choices. DO IT
Example:
I have quite a healthy lifestyle at the moment. I'm eating sensibly and doing a lot of exercise.
2 Discuss the following questions. As in other parts of this book, common collocations are shown in bold. DO IT
1- Would you like to change your lifestyle ? Why/Why not?
2- Do you lead an active social life ? What kinds of things do you do?
3- What do you think is meant by the American way of life ? How would you describe the way of life in your country to a foreigner?
4- What are some of the positive and negative aspects of our modern way of life ? In what ways, if any, was the traditional way of life in your country better?
5- Why are people so interested in the private lives of celebrities? Do they interest you?
Speaking FCE part 2
Talking about photos
1 Look at the four photographs. They show people who have different lifestyles. Before you do the speaking task, read the information in the boxes below.
Student A Compare photographs 1 and 2 and say what you think the people might find difficult about their lifestyles.
Student B When your partner has finished, say which lifestyle you would prefer to lead.
How to go about it
Student A
In Part 2 of the speaking exam you are not asked to describe the photographs in detail, but to compare them. When doing this, comment on the similarities and differences:
Similarities : Both pictures show …
Differences : In the first picture … whereas in the second one …
When talking about what the people might find difficult about their lifestyles, give reasons for your
opinions. You could comment on some of the following:
1 daily routin 2 working hours 3  leisure time 4  type of home 5  friends 6  eating habits 7  health 8  travel 9  family 10  life
Student B
In the exam you have time to develop your answer fully and give reasons for your choice.
Useful language (MEMORIZE THEM)
I get the impression it's a stressful life.
I expect/imagine she has to get up early.
He probably spends a long time away from home.
I doubt that she has much time for a social life.
Perhaps he doesn't see his family very often.
TALK ABOUT THE PICTURES
picture one ( Actor ) and picture two ( potter )
picture three ( farm vet ) and picture four ( fisherman )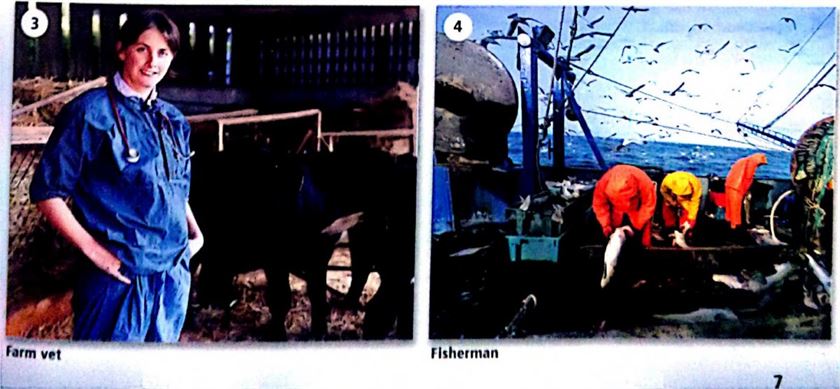 Important words of this session: MEMORIZE THEM
1- alternative : /ɔːlˈtɜːnətɪv $ ɒːlˈtɜːr-, æl-/deliberately different from what is usual, expected, or traditional / sources of alternative energy
2- chaotic : /keɪˈɒtɪk $ -ˈɑːtɪk/a chaotic situation is one in which everything is happening in a confused way /   a chaotic mixture of images
3- sedentary : /ˈsedəntəri $ -teri/formal spending a lot of time sitting down, and not moving or exercising very much / sedentary life/job/lifestyle etc /health problems caused by our sedentary lifestyles
4- sensible : /ˈsensəbəl/reasonable, practical, and showing good judgment /  She seems very sensible .